Hypertherm has released Robotmaster Version 7.1, a major update to the completely redesigned and advanced architecture of its Version 7 software released last year.
In total, this new robotic programming software contains more than 40 new features, 500 improvements, and dozens of bug fixes. Many of the changes, driven by customer feedback, are designed to continuously improve the software's CAD/CAM technology and automate programming, allowing customers to enjoy the best error-free robotic path in just one click.
Added features and improvements include:
Ability to automatically recognise weld joints embedded in CAD models which simplifies and speeds up programming
Ability to transform operations to reduce multiple manual selections
Ability to modify operation geometry (a section of the path or the entire path) so the user can match the CAD model to the actual part when a mismatch exists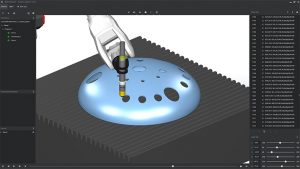 Robotmaster can handle both simple and complex robotic tasks, from straightforward plasma cutting jobs, to deburring and additive manufacturing applications.
Today, Robotmaster software is used on robots that drill airplane fuselages, polish automotive dies, cut material, support additive manufacturing, and add value to a multitude of processes at family-owned job shops around the world.
"Our goal was to revolutionise the way robots are programmed by creating software that is so intuitive anyone can use it," explained Garen Cakmak, leader of Hypertherm's Robotic Software team.
"It enables customers to enjoy error-free task-based programming that takes collisions, singularities, joint collisions, and other robotic errors into account before running the program live on a robot.
"This in turn makes it possible to program new jobs without interrupting the robot, minimising downtime and instantly increasing productivity and profitability."