Flow sensors have been used throughout industry for many years.
However, Omron's new E8FC series introduces dual parameter sensing, where a single meter measures the temperature of a liquid, as well as its flow.
The simultaneous monitoring temperatures means many more abnormalities can be detected than when only flow is measured.
Typical applications are measuring cooling water used in moulding and welding. The water must not only flow, it must also be below a certain temperature to be effective. Faulty or substandard products could result if either is incorrect.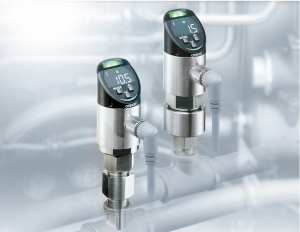 Three different models are available, analogue only or analogue + IO Link (both with COM2 and COM3 baud rates). All models have a digital output for external alarm detection, which allows for easy replacement of existing units.
The meter uses its IO Link channel to return the flow rate, temperature and a host of configurable alarm bits, set by threshold values. This allows users to keep a close eye on proceedings and even perform preventative maintenance functions if required.
A four-digit high luminosity 7-segment display on the meter shows flow rate, temperature or percentages of what's expected. It also has a large indicator that changes colour to alert users of potential flow and temperature problems.
As the meter often needs to be mounted into a small or awkward space, it can be rotated up to 330° on its mounting.
The display also has an "upsidedown" mode for when the meter needs to be mounted this way.