Cintoo Cloud continues to bridge the gap between Reality Capture and Digital Twins as it hits one million laser scans uploaded to its platform, demonstrating the demand from businesses for cloud-based technology to drive more efficient and collaborative ways of working. 
Industry 4.0 organisations are recognising the time, resource and cost savings to be gained by basing their Digital Twins of existing assets on meaningful, trustful Reality Capture data, which they can glean from the platform by uploading their laser scan data and BIM and CAD models.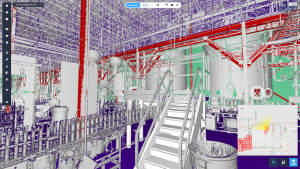 With a client base spanning utilities, oil and gas, energy, automotive, water treatment, food and beverage, construction, engineering, architecture and cultural heritage, the platform's 12,000 users have uploaded more than 10,000 BIM models and 200 million square metres of laser scans – the equivalent of twice the surface area of Paris – to Cintoo Cloud.
Companies are also leveraging their Reality Capture data in the platform for QA/QC and construction progress monitoring, scan-to-BIM, asset management, retrofits, predictive maintenance, decommissioning and much more.
A SaaS platform, Cintoo Cloud turns massive laser scan data into cloud and BIM compatible Reality Data that can be shared, viewed, annotated, measured or distributed for collaborative Scan-to-BIM and Scan-to-CAD workflows.
It also enables asset management and as-built versus model comparisons. The platform leverages a unique point cloud-to-mesh technology, allowing for fast streaming of high-resolution, mesh-based scan data in a web browser with no plug-in to install.
Leveraging Cintoo SDK and APIs, mesh-based streaming can also be used to build VR and AR apps, mixing scans and BIM or CAD in the Unreal and Unity platforms.
The platform has rapidly growing audiences in Australasia, and is being used to host and manage the laser scan data of teams working on a diverse range of projects such as automotive factories in Detroit, Michigan; North Sea oil rigs; the renovation of the Howard Middle School in Atlanta – Martin Luther King Jr's former school; and cultural heritage sites such as the ancient city of Volterra in Italy.
Businesses struggling to share, view or distribute massive as-built laser scan data to teams, contractors and stakeholders should give the platform a try.