–Nathan Knight, General Manager ANZ, Lenovo DCG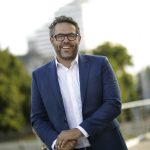 With Australia's 5G networks set to go live this year, we can expect a new wave of possibilities in the manufacturing industry to usher in a new era of economic growth and hyper-connectivity.  
5G isn't just about consuming more content faster, but also how high-speed connectivity supports new work from home arrangements, smart vehicles, devices and factories where plenty of data are exchanged in the network every second.
This looks set to propel the adoption of the Internet of Things (IoT) and catalyse connectivity beyond recognition.
IoT is the future of manufacturing 
IoT and 5G together are key for manufacturing companies to connect all stages of the planning-to-sales process, offering a holistic view of real-time benefits.
They allow data to flow back and forth through multi-dimensional ecosystems, enabling suppliers, manufacturers and customers to conduct business more efficiently.
IoT-enabled devices collect masses of data, allowing manufacturers to achieve higher product quality, better-informed decision making and greater foresight with predictive maintenance. 
At a supply chain level, IoT streamlines processes where various shipments coming in daily need to be synced into the production schedule and tracked until the final delivery stages.
This entire process needs to be arranged with precision so entire factories are being IoT-enabled with smart devices that track the position of each employee and machine.
While the benefits of the technology are vast, a quick summary of what enterprises can hope to achieve through the creation of IoT enabled networks includes:
Identification of issues before they occur, for example, potential breakdowns
Optimisation of supply and reduction of costs through closer observation of the production network
Improved analytics and decision making through relevant, real-time data
Enable efficiencies of scale in areas such as inventory, production, logistics, etc.
Increased consumer loyalty through improved products
Prediction of issues and optimisation of inventory management by closely monitoring materials and products throughout the manufacturing process
Getting the most out of IoT with Cloud and Edge
IoT generates mass amounts of data that manufacturers are required to store, secure, manage and analyse in order to gain business insights.
Not only do cloud-based solutions perform these essential functions, but they also allow for better collaboration with developers and analysts who are able to store and access data remotely while managing workloads in response to operational cycle demands.
Further to this, by incorporating IoT into the cloud, manufacturers can better connect different plants and storage clouds across a variety of locations, and the use of artificial intelligence in this network can help manufacturers capture new growth opportunities.
It's no wonder that manufacturers are now more interested than ever to leverage the cloud to intelligently handle their data networks and support their digital transformation.
Many cloud service providers today charge via a pay-per-use model, which means manufacturers can have access to potentially unlimited resources but only pay for what they actually use.
This model is particularly set to benefit SMEs and start-ups to avoid overprovisioning their IT infrastructure, resulting in an overall reduction in costs.
Many manufacturing companies have also started implementing BYOD (bring your own device) facilities, which gives employees the flexibility to control and manage work from anywhere in the world.
In addition to cloud deployments, edge computing has emerged as a solution that supports mission-critical activities in manufacturing while requiring minimal delay in processing. The result? IoT infrastructures transitioning to the edge.
This transition is being mirrored in the data centre, which is quickly evolving from 'core-centric' to 'edge-to-core' – distributed edge IT being where the 'local' work happens; and core IT being where the majority of business operation work happens including the data centre and private, multi or hybrid cloud. R
The cloud must follow the transformation of the data centre, and likewise, move availability and breadth of services to reach the edge of the network.
Customers are looking to shift focus to delivery, consumption and operating models that are service-oriented. Companies are considering leveraging multiple cloud environments that offer specialised capabilities to better align with the different technical requirements and business-level objectives of particular workloads, applications, or services within the manufacturing ecosystem.
Edge computing is a more economical way to scale up IoT adoption since the edge is not usually one location – and in the case of the manufacturing sector, it is possible to see many small deployments running autonomously.
It would not be too far-fetched to expect that more manufacturing companies will increasingly adopt edge computing because of its ease of use, low latency, and cost savings.
Moving towards an Intelligent Future 
With IoT, manufacturing companies will become increasingly data-driven and cloud and edge computing will impart a high degree of 'smartness' to their operating environments.
Smart companies will have real-time visibility on the efficiency of factory processes and performance, thereby enabling manufacturers to refine and improve operations with relevant and up-to-date data.
While edge computing has key advantages for the manufacturing sector, the cloud will still hold the promise of managing large data workloads that will accelerate predictive analytics, machine learning and artificial intelligence deployments.
When deployed in a thoughtful configuration, edge computing and the cloud have the ability to create dynamic, cutting-edge solutions for the manufacturing sector.
Companies that are integrating IoT and 5G technologies into their digital strategies will be able to meet the goals of their businesses today and in future and maintain competitive advantage in today's dynamic business environment.