Yubico, the leading provider of hardware authentication security keys, now has available the YubiKey Bio Series, the first series that supports fingerprint recognition for secure passwordless and second-factor logins. 
Built for biometric authentication on desktops, the YubiKey Bio Series supports modern FIDO2/WebAuthn and U2F protocols, in both USB-A and USB-C form factors.
In keeping with Yubico's innovation and design philosophy, the YubiKey Bio does not require any batteries, drivers, or associated software.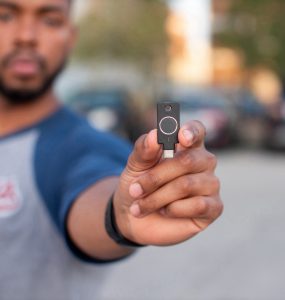 The new security keys integrate with the native biometric enrolment and management features supported in the latest platforms and operating systems. Once a YubiKey Bio is set up, users will experience secure second factor and passwordless logins for desktop-based FIDO-supported services and applications.
The series reimagines biometric authentication on a security key. Its three chip architecture  allows the biometric fingerprint material to be stored in a separate secure element which delivers enhanced protection from physical attacks. 
The YubiKey Bio acts as a single, trusted hardware-backed root of trust which allows the user to authenticate with the same key across multiple desktop devices, operating systems, and applications.
The YubiKey Bio enables biometric login on desktop with all applications and services that support FIDO protocols and works out-of-the-box with Citrix Workspace, Duo, GitHub, IBM Security Verify, Microsoft Azure Active Directory and Microsoft 365, Okta and Ping Identity.
With the growing adoption of modern authentication, Yubico continues to work closely with its partner ecosystem to encourage support of biometric authentication as detailed in the WebAuthn and FIDO2 specs.