Manufacturing is on the verge of a data-driven revolution, but like all revolutions it will require the right actions, individually and collaboratively, to realise its full potential.
Within a few years, manufacturers will collaborate in hyperconnected value networks in which data‑and‑analytics applications drive productivity, new customer experiences, and societal and environmental effects.
Indeed, data and analytics are a key driver in realising the "Factory of Future" by enabling transparency, predictions and autonomous systems.
Already today, we see leading manufacturers applying data and analytics to achieve their objectives for efficiency, sustainability and resilience. The imperative to boost efficiency and productivity is driven by intense cost pressures as well as liquidity issues arising from Covid-19 pandemic-related business disruptions.
Sustainable operations are at the top of the agenda for many companies.. At the same time, they are seeking to build more resilient and connected supply chains, so they can anticipate and react faster to disruptions.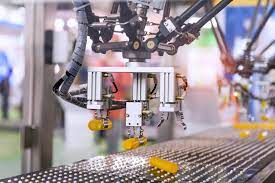 Most companies recognise that data and analytics are rapidly changing the way they manufacture goods. Despite the high ambitions and strong value proposition, companies have not yet tapped the full potential.
A triad of interconnected success factors
Successful companies have demonstrated that three elements must be combined to drive full-scale implementation of data and analytics.
First, they focus on value in selecting applications. Second, they establish a solid technological backbone comprising both information technology (IT) and operations technology (OT).
Third, they promote organisational readiness to ensure that investments deliver the anticipated returns.
Examples from various industry sectors demonstrate the importance of these success factors:
Petrochemicals: A large petrochemical client of Schneider Electric is leveraging advanced process control to improve asset productivity and energy consumption in a highly complex integrated plant.
The advanced process control is informed by an accurate digital twin based on a thermodynamic model. Moreover, effective visualisation tools also provide transparency to the operators.
Thanks to strong existing infrastructure, no additional sensors were needed, and the system turns existing data into improved actions and insights.
Moreover, the combination of IT knowledge and operational excellence skills was crucial to implement this advanced solution.
Ultimately, the Schneider Electric solution helped the client realise a return on investment within a few months and increasing profitability by more than $10 million annually.
This success story highlights the significant impact of advanced analytics applications on productivity and sustainability that can be achieved with open and interoperable solutions which work seamlessly with existing infrastructure.
Industrial containers: Data and analytics helped VIZUU, a subsidiary of Schaefer Werke, transform from being a traditional supplier of industrial containers to a digital service provider.
Industrial containers are equipped with sensors that record a large variety of different parameters – e.g. filling level, temperatures, position, etc. – and publish the data to an SAP IoT cloud.
A multitude of different applications process the data to increase transparency and efficiency along the supply chain, with a 10% reduction in working capital, 20% increase in turnover ratio and 10% reduction in claim costs.
Moreover, it allows VIZUU to create an additional business and new revenue streams through offering services.
This successful business model requires a strong infrastructural backbone comprising of big data services, rules and authorisations for data management, as well as device connectivity.
Building technology: Toshiba performs advanced analytics on building-related data to enhance asset performance and reduce the environmental footprint. In fact, energy consumption was cut by 16% with carbon emissions even reduced by 54%.
To achieve this, data from a multitude of partners and assets – such as entrance gates, elevators, air conditioning and lighting – is collected through heterogenous sensors and equipment.
This data feeds value-adding applications, such as an improved energy management through, for example, optimised air flow, better utilisation of machines and the control of ambient parameters based on predicted people movement.
These applications rely on a strong technological backbone allowing the acquisition and processing of a large amount of data as well as the connectivity of individual assets to a multi-tenancy Industrial Internet of Things (IIoT) cloud with role-based access control.
Equally important, Toshiba considers the collaboration between the asset manufacturers, building owners and tenants to be a key success factor in this case.
A framework for manufacturing data excellence
To help companies navigate through the complex landscape of applications and offerings, the triad of value-focused applications, technological foundations and organisational enablers needs to be codified into a common structure and terminology.
The first step is an assessment of the status quo using the framework. Companies need to objectively assess their maturity in implementing applications and technological and organisational enablers.
They will then be able to compare their individual maturity versus the benchmark and define their individual target state.
The framework and assessment support a learning journey in which leading companies share best practices on data excellence and disseminate insights from their experience.
Building on the Platform for Shaping the Future of Advanced Manufacturing and Production, the framework can also be leveraged to forge new partnerships to develop applications or advance the maturity of critical enablers.
Such partnerships play a vital role in accelerating new ecosystems and increasing their maturity, such as by implementing more advanced artificial intelligence or better data security standards.
Moreover, as additional partners join from existing or new industries, the ecosystem grows and can capture the benefits of greater scale.