~ The manufacturing and legal issues surrounding additive manufacturing ~
In 1984, Charles Hull invented the first 3D printer, which used stereolithography to build up a plastic product layer by layer.
Over 35 years later, additive manufacturing (AM) is drastically altering a range of industries, from manufacturing to the medical sector. But what are the limitations of the technology? 
In some applications, component manufacturing is shifting away from traditional subtractive machining methods and towards additive manufacturing techniques.
The broadening of the applications of AM is causing manufacturers to assess the viability of using it in their own facilities.
To do this, there are a few considerations to make before turning to 3D technology.
Quality not quantity
When moving from one manufacturing method to another, quality is a huge factor, particularly in highly regulated industries like aerospace and medical devices.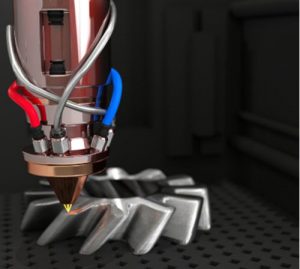 In fact, quality has been one of the major hurdles to the widespread adoption of AM. One critical consideration is that quality and consistency must be the same machine to machine, regardless of location.
Powder bed fusion is one of the most frequently used additive manufacturing methods and there is a possibility that it may introduce defects.
However, if the process has a constant thermal gradient, it can prevent warping of the product, avoiding the introduction of defects due to incorrect temperatures.
Another concern is that unsintered powder will degrade as a result of heat exposure and that this could impact quality, although regular changing of the powder can prevent this from becoming an issue.
When investing in an AM system, manufacturers can overcome quality concerns by working with an experienced partner, who provides training and support on best practice. Those looking to invest in AM parts produced elsewhere should be mindful of their supplier's approach to quality, to ensure that what they are purchasing meets specifications.
The perfect material
Polymers, ceramics and metals can all be 3D printed, although plastic 3D printing remains the most popular. While it is feasible to print many materials, some are more suited to the process than others — choosing the wrong material will also impact quality. If you are manufacturing a product from a material unsuited to AM, you may have to rethink your options, either to change the material or opt for a subtractive process.
Ultimately, it won't usually make good economic sense to switch to AM from conventional manufacturing, unless AM offers significant benefits to the application, for example by making it lightweight. However, if your design is extremely complex and will require expensive custom tooling, AM may be a better option.
Additive manufacturing is a fantastic technology that has brought great design freedom to many applications. However, it is not a one size fits all approach. Companies should think carefully about whether a component really needs to be produced by AM, considering the cost, productivity and practicality of incorporating AM into their process.
In many situations, producing and sourcing parts the old-fashioned way — ordering them from a reliable supplier — is the best approach.